Auditory Neuropathy in Childhood
Keywords:
auditory neuropathy, transient otoacoustic emissions, auditory evoked brainstem potentials
Abstract
The combination of transient otoacoustic emissions (TOAE) and auditory brainstem evoked potentials (ABR) allows us to identify a group of patients with auditory neuropathy (AN), whose clinical and therapeutic implications constitute a challenge in our otological practice. The pediatric population studied by us has not manifested an alteration in the neurological examination or in the magnetic resonance imaging of the brain or the inner ears. TOAE and type A tympanograms,
they were registered in 100% of the cases. Stapedial reflexes and ABR were absent in all patients. In tonal or behavioral audiometry, the degree of sensorineural hearing loss ranged from mild to moderate, being bilateral in all cases. The children who collaborated in the verbal tests showed a disproportionate decrease in the comprehension of the word that did not correspond to their tonal audiograms. Previous findings suggest that the lesion is sensorineural, with normal cochlear outer hair cell function (TOAE present). It cannot be determined whether the lesion is located in the inner hair cells, in the eighth pair, or in both. The most probable etiologies that have justified AN have been: hyperbilirubinemia, perinatal anoxia, prematurity or idiopathic. The result of speech rehabilitation with hearing aids shows limited effectiveness. All patients are being treated by a language therapist. The success of this therapy depends on its early introduction.
Downloads
Download data is not yet available.
Visibility and Altmetrics
References
Berlin C. Auditory neuropathy. Current opinion in Otolaryngology Head and Neck Sur-gery. 6 –325-9. 1998. https://doi.org/10.1097/00020840-199810000-00008
Starr, A., Picton, T. W., Sininger, Y., Hood, L. J., & Berlin, C. I. Auditory neuropathy. Brain. 119. 741-53. 1996 https://doi.org/10.1093/brain/119.3.741
Miyamoto, R. T., Kirk, K. H., Renshaw, J., & Hussain, D. Cochlear implantation in auditory neuropathy. Laryngoscope. 109- 185-5. 1999. https://doi.org/10.1097/00005537-199902000-00002
Tapia, M.C., Lirola, A., Moro, M., Antoli Candela, F . Neuropatía auditiva en la infancia. Acta Otorrinolaringológica española. 51(6). 482-489. 2000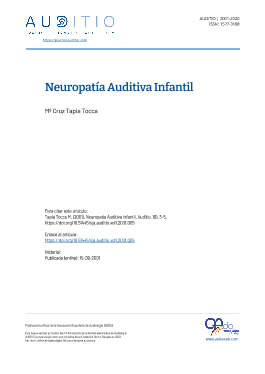 Published
2001-09-15 — Updated on 2021-09-15
How to Cite
Tapia Tocca, M. C. (2021). Auditory Neuropathy in Childhood. Auditio, 1(1), 3–5. https://doi.org/10.51445/sja.auditio.vol1.2001.005 (Original work published September 15, 2001)
Section
e-journal of audiology (archive before 2021 only in Spanish)
License
Copyright (c) 2001 AUDITIO | Spanish Journal of Audiology
This work is licensed under a Creative Commons Attribution 3.0 Unported License.
Articles published after 2020
Authors retain copyright and grant the journal right of first publication with the work simultaneously licensed, unless otherwise indicated, under a Creative Commons Attribution License that allows others to share the work with an acknowledgement of the work's authorship and initial publication in this journal. The authors can choose between the following Creative Commons licenses: https://creativecommons.org/about/cclicenses/  
Articles published between 2001 and 2020
The texts published in this journal in the section "AUDITIO 2001-2020" are subject - unless otherwise indicated - to a Creative Commons Attribution 3.0 Spain license. You can copy, distribute, communicate them publicly, make derivative works and commercial uses provided that you acknowledge the credits of the works (authorship, name of the journal, publishing institution) in the manner specified by the authors or by the journal. The full license can be consulted at http://creativecommons.org/licenses/by/3.0/es/deed.es.