Digital hearing-aid examination
Keywords:
digital hearing aids, hearing-aid analyzer, hearing-aid fitting, ICRA
Abstract
There is a widespread notion among hearing-aid fitting professionals that the response of digital hearing aids cannot be examined. This idea is erroneous since we have the technology to carry out these studies. In this article, we present the necessary methodology for the examination of digital hearing aids using pure and composite tone signals. This methodology allows the interactive analysis of the response of the noise reduction filters characteristic of digital hearing aids. Thus, a review of the analysis of the responses is carried out through the use of spectography techniques.
Translated with permission of the author by Franz Zenker. Original Article: Frye GJ. Testing Digital Hearing Instruments  [en linea].  Hearing Review. 13 link
Downloads
Download data is not yet available.
Visibility and Altmetrics
References
Frye GJ: (1990). A Perspective on digital hearing instruments. Hearing Review; 6 (10):61.
Heide J: (1987). Testing electroacustic per-formance of ASP and nonlinear hearing aids. Hearing Journal; 40 (4).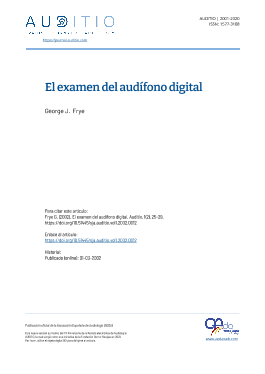 Published
2002-03-01 — Updated on 2021-09-15
How to Cite
Frye, G. J. . (2021). Digital hearing-aid examination. Auditio, 1(2), 25–29. https://doi.org/10.51445/sja.auditio.vol1.2002.0012 (Original work published March 1, 2002)
Section
e-journal of audiology (archive before 2021 only in Spanish)
License
Copyright (c) 2002 Auditio
This work is licensed under a Creative Commons Attribution 3.0 Unported License.
Articles published after 2020
Authors retain copyright and grant the journal right of first publication with the work simultaneously licensed, unless otherwise indicated, under a Creative Commons Attribution License that allows others to share the work with an acknowledgement of the work's authorship and initial publication in this journal. The authors can choose between the following Creative Commons licenses: https://creativecommons.org/about/cclicenses/  
Articles published between 2001 and 2020
The texts published in this journal in the section "AUDITIO 2001-2020" are subject - unless otherwise indicated - to a Creative Commons Attribution 3.0 Spain license. You can copy, distribute, communicate them publicly, make derivative works and commercial uses provided that you acknowledge the credits of the works (authorship, name of the journal, publishing institution) in the manner specified by the authors or by the journal. The full license can be consulted at http://creativecommons.org/licenses/by/3.0/es/deed.es.