Physical, functional and audiological assessment of the elderly to proceed with the hearing-aid fitting
Keywords:
elderly, anamnesis, audiometry, diagnosis, prosthesis, geriatry, prognosis, fitting
Abstract
In the elderly, there are two situations: one, their need to listen to the social isolation caused by deafness and the other, the disappointment they cause, the negative results obtained in the prosthetic adaptation that do not reach the objectives set by them, which forces you not to use the prosthesis. This work intends, firstly, that the coincidence of these two situations does not occur, and secondly, to make hearing care professionals aware that prosthetic adaptation is much more than a simple commercial transaction, that the hearing care professional is treating a patient more than to a client and that their professional work should be focused on prosthetically solving an auditory pathology based on objective and scientific criteria. For this, we have protocolized the data collection to facilitate the hearing care professional, its study and decision making. This is what allows us to know the elderly, not only in terms of their auditory pathology, but also in terms of their coexistence needs and desirable degree of well-being, which in turn allows us to act correctly in the choice of prosthesis and of the ear to appear. The results will always be pleasant, whether or not an adaptation is made, since we are in a position to explain the causes and their why, which satisfies the elderly who does not feel cheated, as if the adaptation is carried out since they see compliments your goals in a rewarding way.
Downloads
Download data is not yet available.
Visibility and Altmetrics
References
Bonet Agusti, Montserrat. Manual de rehabilitacion del sordo adulto. Barcelona, Mason, 1993.
Bernal Zafra, Sebastian. Protesicoaudiologia. Como realizar un diagnostico, una metodologia y un pronostico audioprotesico. Cadiz. 1996.
Diana, S. Stokes. Atencion de enfermeria en el servicio de ORL. Mexico, Limusa, 1991.
Rodriguez M y Bonaut, J.F. Que es y para que sirve la impedanciometria, IV Audiosymposium de verano.
J.M. Rivera, F. Veiga, M. Torrijos. Enfermeria Geriatrica. Madrid. Idepsa, 1991.
Lopez Moya J.J. Problemática actual de la sordera. Madrid. Editmex, 1995.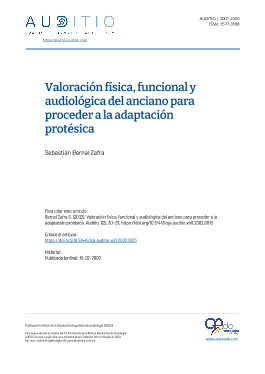 Published
2002-02-15 — Updated on 2021-09-15
How to Cite
Bernal Zafra, S. (2021). Physical, functional and audiological assessment of the elderly to proceed with the hearing-aid fitting. Auditio, 1(2), 30–33. https://doi.org/10.51445/sja.auditio.vol1.2002.0013 (Original work published February 15, 2002)
Section
e-journal of audiology (archive before 2021 only in Spanish)
License
Copyright (c) 2002 Auditio
This work is licensed under a Creative Commons Attribution 3.0 Unported License.
Articles published after 2020
Authors retain copyright and grant the journal right of first publication with the work simultaneously licensed, unless otherwise indicated, under a Creative Commons Attribution License that allows others to share the work with an acknowledgement of the work's authorship and initial publication in this journal. The authors can choose between the following Creative Commons licenses: https://creativecommons.org/about/cclicenses/  
Articles published between 2001 and 2020
The texts published in this journal in the section "AUDITIO 2001-2020" are subject - unless otherwise indicated - to a Creative Commons Attribution 3.0 Spain license. You can copy, distribute, communicate them publicly, make derivative works and commercial uses provided that you acknowledge the credits of the works (authorship, name of the journal, publishing institution) in the manner specified by the authors or by the journal. The full license can be consulted at http://creativecommons.org/licenses/by/3.0/es/deed.es.