Consensus on audiological assessments (I): Pure-tone audiometry
Keywords:
audiometry, air conduction, bone conduction, masking, consensus
Abstract
All of us who work using diagnostic tests, averages or hearing tests know that we do not always do it in the same way as other colleagues. We introduce personal, useful or methodological variables that are not always controllable that can produce at least two undesirable consequences. In the first place we can consider correct results that are not. Second, we need to know under what minimum conditions we all work. The Spanish Audiology Association (AEDA) presents with this text a suggestion of standardization of the Liminal Tonal Audiometry, which is in accordance with the ISO regulations and it aims to be a further contribution to the need we have in Spain to share this type of protocols .
Downloads
Download data is not yet available.
Visibility and Altmetrics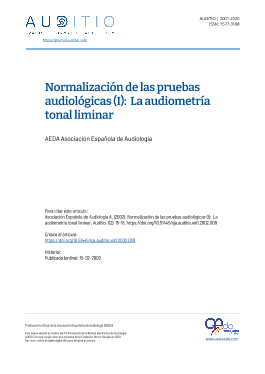 Published
2002-02-15 — Updated on 2021-09-15
How to Cite
Asociación Española de Audiología, A. (2021). Consensus on audiological assessments (I): Pure-tone audiometry. Auditio, 1(2), 15–18. https://doi.org/10.51445/sja.auditio.vol1.2002.009 (Original work published February 15, 2002)
Section
e-journal of audiology (archive before 2021 only in Spanish)
License
Copyright (c) 2002 Auditio
This work is licensed under a Creative Commons Attribution 3.0 Unported License.
Articles published after 2020
Authors retain copyright and grant the journal right of first publication with the work simultaneously licensed, unless otherwise indicated, under a Creative Commons Attribution License that allows others to share the work with an acknowledgement of the work's authorship and initial publication in this journal. The authors can choose between the following Creative Commons licenses: https://creativecommons.org/about/cclicenses/  
Articles published between 2001 and 2020
The texts published in this journal in the section "AUDITIO 2001-2020" are subject - unless otherwise indicated - to a Creative Commons Attribution 3.0 Spain license. You can copy, distribute, communicate them publicly, make derivative works and commercial uses provided that you acknowledge the credits of the works (authorship, name of the journal, publishing institution) in the manner specified by the authors or by the journal. The full license can be consulted at http://creativecommons.org/licenses/by/3.0/es/deed.es.