Global Context of Audiology
Keywords:
audiology, social audiology, disabilities
Abstract
Dr. Barruecos began the previous editorial by reviewing modern audiology, being this clinicaly and technically eminent. In a process of continuity, let me emphasize the lesser known part of audiology that is integrated into clear spaces of global audiology. The first thing that occurs to me is to look in the dictionary of the Royal Spanish Academy of the language ... and I can't find any meaning. Note that the term audiology does not appear, however all of us who intervene in one way or another know that it does exist. That is interesting. What should we understand by social audiology? I find some meaning in second-rate dictionaries: "Discipline that deals with the study of acoustic phenomena in relation to hearing." I keep looking for: "Discipline that deals with the study of acoustic phenomena in relation to hearing and the causes of lack of it." Well ... now I agree somewhat more.
In the last congress held in May 2004 in Como, a town near Milan, one of the largest, possibly the largest, of those held in Europe in audiology, will help me to make the approach that I outline.
If social audiology did not exist, how would it be understood that a good number of interventions of the fantastic event, of the hundreds that were reproduced, dealt with the intervention with parents of deaf children? Obviously, the programs or therapies influence the intervention with parents of these deaf children. And what we can call the other way of doing audiology has great relevance. Even the World Health Organization (WHO) dares to participate, developing elements that allow us to understand what happens with children with disabilities and their classification, and how they should participate in society. And he makes an important distinction between illness, disability, restrictions and handicap, because obviously those of us who work with deaf children know their difference. We intend that these services are carried out from professional services understood as the interaction of different professionals posed as a univocal action, with clear spaces of consensus between different fields of knowledge aimed at children with hearing compensation needs.
All these antecedents configure the basic concerns that give rise to our service, the Phonak Children's Program (PIP). Three areas of development have been those that empower our commitment and our responsibility, all the actions carried out have been elaborated through three basic actions: at the educational, informative and scientific level. We disseminate the activities carried out through press conferences or informative presentations through conventional informative channels. The performance of the hearing aid adaptation is the vehicle that helps us to intervene, among other specialists, to audiologists and hearing care professionals. In our country, for 3 decades, we have not been able to carry out pediatric and infant adaptation protocols. We have had specialists who have demonstrated their capacity for consensus and professionalism in the drafting of the hearing aid fitting protocol. To this end, the recommendations for pediatric adaptation were created by the Pediatric Audioprosthetic Group (GAP) promoted by our service, in order to favor and improve the training and information of specialists who intervene with deaf children. Specialists in otorhinolaryngology, hearing care professionals, specialists in the areas of speech therapy, pedagogy and care for parents of deaf children have collaborated in its writing.
We are turning the open courses that we call "PIP Classroom" into a reference in the field of training and information in clinical, prosthetic and social audiology. In 2003 we celebrated the first conference on noise in the classroom and FM systems. We have the collaboration of renowned specialists from the US and Switzerland, from the University of Alicante and Barcelona. Today we finish the 2nd PIP classroom. That same year 2003, we held the most important Pediatric Audiology Symposium in Barcelona, ​​the first in Europe. We were visited by 340 specialists from 22 different countries. The most relevant audiology specialists in the world attended.
The development of the actions undertaken has been developed within the children's program with its own and external resources. The actions undertaken have been developed from 4 preferential aspects: at a social, research, professional and technical level.
The dissemination of content is carried out through its own aspects:
"Children's Hearing. Reference Framework for Audio-Prosthetic Adaptation "documentation prepared by about forty specialists, for specialists, has been, and is a reference for them both in our country and those of us who share the same language.
"My child has a hearing loss" manual for parents is edited by the service, with the aim of providing insight and answers to parents of children with a recent diagnosis or in the course of hearing aids.
With our website we make the world smaller, with it we exchange, expand and assemble the issues that interest us all. Because we want to provide the necessary tools for diagnosis and referral at the same time as defining common agreed criteria adapted to the new technologies applied in hearing aids of any sign. In turn, set minimums for the specialist's experience and training. We must also specify educational criteria regarding prosthetics and access to the educational curriculum and how to determine the degree of need for care coordination for parents. And to specify, even more, the interaction of the child or young person with the social environment as the univocal goal of all the specialists who intervene in children who hardly hear, or do not hear well.
We are moved in the PIP by the activation of programs aimed at the family of children with hearing disabilities, because we believe in global audiology, because we know that there is another way of doing audiology, because we want to do another way of audiology. And we do it with specialists, from intervention services focused on the family.
Downloads
Download data is not yet available.
Visibility and Altmetrics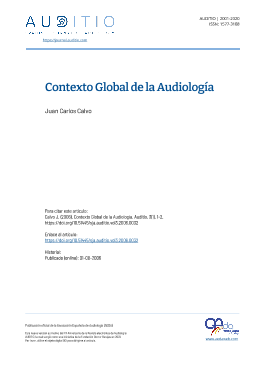 Published
2006-08-01 — Updated on 2021-09-15
How to Cite
Calvo, J. C. (2021). Global Context of Audiology. Auditio, 3(1), 1–2. https://doi.org/10.51445/sja.auditio.vol3.2006.0032 (Original work published August 1, 2006)
Section
e-journal of audiology (archive before 2021 only in Spanish)
License
Copyright (c) 2006 Auditio
This work is licensed under a Creative Commons Attribution 3.0 Unported License.
Articles published after 2020
Authors retain copyright and grant the journal right of first publication with the work simultaneously licensed, unless otherwise indicated, under a Creative Commons Attribution License that allows others to share the work with an acknowledgement of the work's authorship and initial publication in this journal. The authors can choose between the following Creative Commons licenses: https://creativecommons.org/about/cclicenses/  
Articles published between 2001 and 2020
The texts published in this journal in the section "AUDITIO 2001-2020" are subject - unless otherwise indicated - to a Creative Commons Attribution 3.0 Spain license. You can copy, distribute, communicate them publicly, make derivative works and commercial uses provided that you acknowledge the credits of the works (authorship, name of the journal, publishing institution) in the manner specified by the authors or by the journal. The full license can be consulted at http://creativecommons.org/licenses/by/3.0/es/deed.es.