Indexation strategy 2021-2024
Indexation strategy 2021-2024
Scientific journals are often evaluated in terms of quality and impact by their inclusion in bibliographic catalogs such as Web of Science and Scopus. The inclusion criteria in these catalogs are based on technical requirements and the quality of the journal's editorial policies.
AUDITIO, a new old journal
AUDITO has published scholarly content since 2001. However, the journal has thoroughly revised their editorial policies to improve the quality and promote its impact by accepting submission in English. The transformation towards the "new" AUDITIO has involved improvements in two main aspects:
Technical aspects. The journal has been integrated into the Open Journal System(OJS). Additionally, the archive has been re-edited to include abstracts in English and full-text formats required for indexation (namely, html and JATS-XML). All articles have assigned a digital object identifier (DOI). Last but not least, the journal is preserved in LOCKSS and PKP PN in case of an unexpected event.
Editorial aspects: The editorial policies have been thoroughly revised, including ethical statements (following recommendations from COPE, WAME, etc.) and detailed explanations of the peer-review process and open access licenses. The editorial board is composed by recognized international Spanish-speaking researchers and the associated editors hold PhDs in hearing sciences and/or audiology.
Periodicity requirement
Although the journal now complies with most of the quality requirements, the new editorial policies are yet to be validated. Therefore, AUDITIO cannot apply for inclusion in some of the catalogs until at least 1 year after the new publishing model has been implemented. However, it is our main goal to obtain a positive evaluation and inclusion in Web of Science and Scopus (with the most demanding requirements) no later than 2024.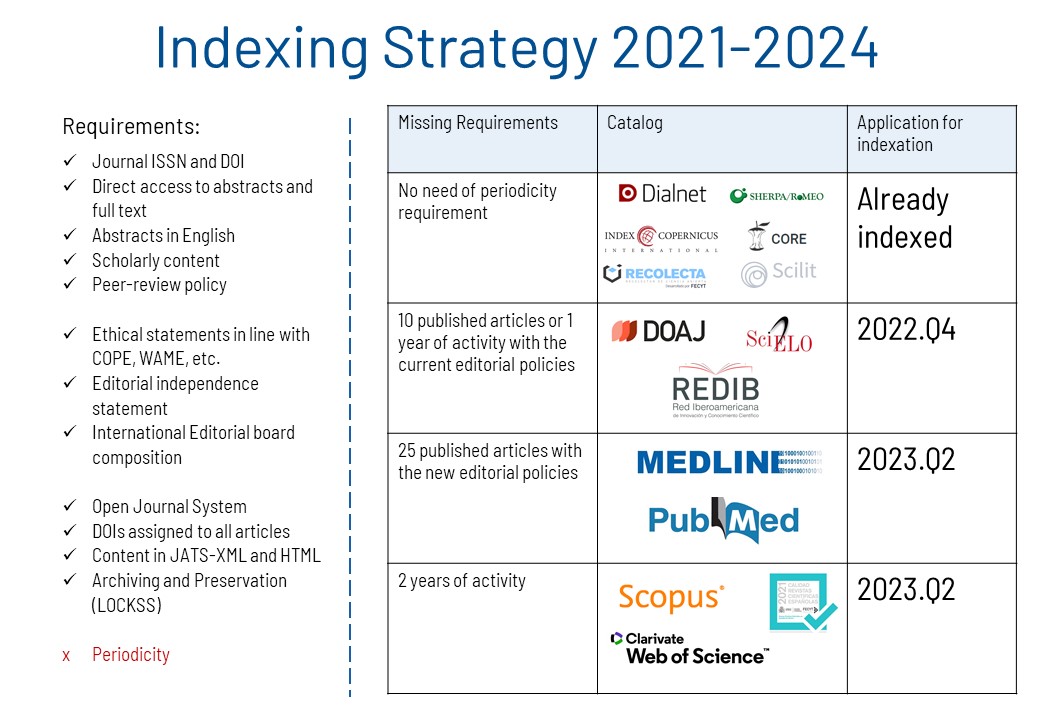 Acknowledgements to the Spanish Audiological Society
To achieve AUDITIO's indexation goals, the Spanish Audiological Society (AEDA, Asociación Española de Audiología) has waived the costs of the translation of the contributions of all accepted articles until 2023. This means that all published articles will be available in Spanish and English in Open Access with a substantial reduction of the article processing charges (currently 150€). We hope this support will help AUDITIO achieve its indexation goals.
Information about the requirements of the mentioned catalogs.